Bachelor of Science (BS) Degree in Marketing

Did you know that one in five presidents or CEOs of America's top 500 companies were marketing majors in college?
Whether you want to climb the corporate ladder, promote a cause, or enter politics, a BS in Marketing degree from Gwynedd Mercy University will prepare you to succeed.

You'll learn about consumer behavior, psychological influences in buying decisions, and ways to attract, maintain, and grow your consumer base through traditional and digital marketing tools and strategies.

You also will explore market research and analytics, advertising, international marketing, and other areas that open the door to opportunities in the diverse and growing marketing field.
Real-World Opportunities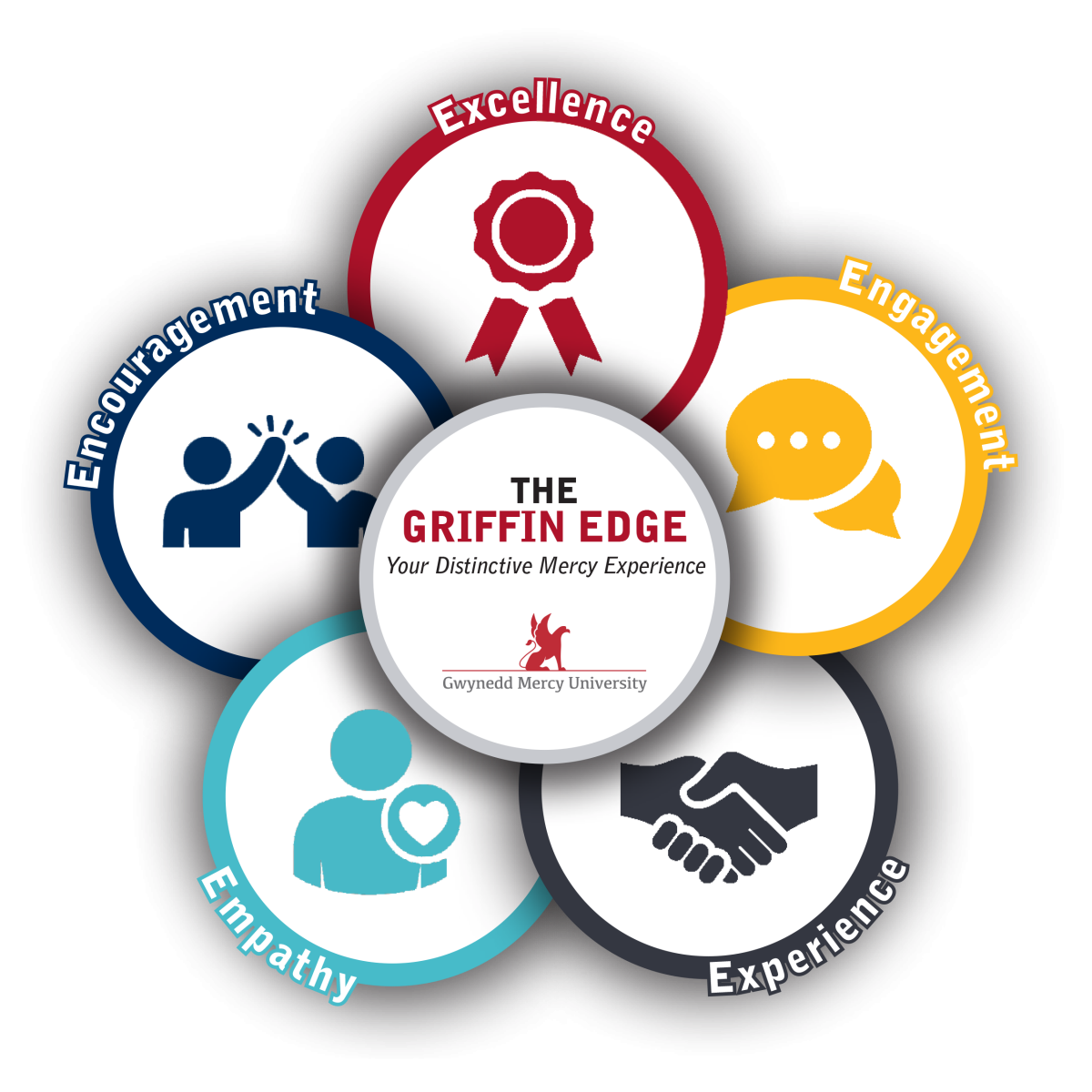 The Griffin Edge is comprised of five touchpoints -- Excellence, Engagement, Experience, Empathy, and Encouragement -- that become the cornerstones of your Distinctive Mercy Experience as a full-time undergraduate student.
The Griffin Edge includes an e-portfolio for documenting your GMercyU educational and extracurricular experiences (no matter your major), reflecting on those experiences, and receiving feedback from faculty. It's designed to help you take ownership of your educational journey and chart the right career path for you. It will also help you learn how to talk about your college experiences in meaningful ways — and that can make all the difference in a job interview. 
For example, a student might say in a job interview: "I conducted research at the undergraduate level." 
A Griffin Edge student might say: "The opportunity to conduct my own research alongside expert faculty taught me the importance of being exact in my data collection and analysis. I was even able to present my findings at our annual research conference! I know this is the career for me."
Learn more about the Griffin Edge here.
To make your transition from the classroom to the workplace as smooth as possible, GMercyU requires marketing majors to complete a relevant internship during their junior or senior year. Not only will you gain valuable networking connections and relevant work experience for your resume, your internship might land you a full-time position after you graduate.
GMercyU marketing students have recently completed internships at these organizations and more:
American Pool Service
Art of Living Print Media
Back on My Feet
Educere
MMIT (Managed Markets Insight & Technology)
Radius Health
Source One
The Disney Company
Part of our marketing degree's appeal is its versatility. You'll be qualified for an entry-level position in an array of careers. And with employment growth rate faster than the national average (per the Bureau of Labor Statistics), you'll enter a field with opportunity. Here's a look at a few specific career paths.
Top Jobs for Marketing Majors
Marketing Manager
Description: These professionals play a critical role in business, inspiring interest in services or products, identifying potential new customers, developing pricing strategies, monitoring market trends, and more.
Degree Requirements: A bachelor's degree
Average Salary: The median annual wage in the U.S. is $141,490.*
*Source
Marketing Research Analyst
Description: Studying the market, marking research analysts collect and analyze data to help companies understand what consumers want and what they're willing to pay for those products or services.
Degree Requirements: A bachelor's degree
Average Salary: The median annual wage in the U.S. is $65,810.
*Source
Sales Manager
Description: A sales manager oversees a company's sales team, from hiring and managing staff to designating sales goals, and they are responsible for their team's success. These positions often require travel.
Degree Requirements: A bachelor's degree
Average Salary: The median annual wage in the U.S. is $132,290.
*Source
More Possible Careers for Marketing Majors
Advertising and promotions manager
Brand manager
Chief marketing officers (CMO)
Communications assistant
Creative director
Digital marketing specialist
Email marketer
International marketing specialist
Marketing analyst
Marketing assistant
Marketing coordinator
Marketing director
Marketing planner
Marketing specialist
Meeting, convention, and event planner
Mobile marketing specialist
Product manager
Public relations manager
Search Engine Optimization (SEO) manager
Sales representative
Social media marketing specialist
Vice president of marketing
*Some of these careers may require additional education or certifications. This is only a partial list and not meant to limit you.
At GMercyU, we've designed our marketing degree with the goals of giving marketing majors the best student experience possible for future career success.

Taylor Gerstlauer '18
Current Position: Senior District Manager, ADP Total Source

Taylor transferred to GMercyU as an Education major but soon realized that teaching wasn't her passion and switched her major to Marketing. In one of her classes she became certified in Google Analytics, which helped her land a critical internship at a company called Source One. After graduation, she accepted a job at ADP Total Source and has already begun climbing the ladder, earning a promotion to Senior District Manager.

"The company was so impressed with my Google Analytics Certification that they ended up hiring me."

Learn more about Taylor's experience.
Read more Griffin Success Stories.
The company was so impressed with my Google Analytics Certification that they ended up hiring me.

—Taylor Gerstlauer '18, Senior District Manager, ADP Total Source